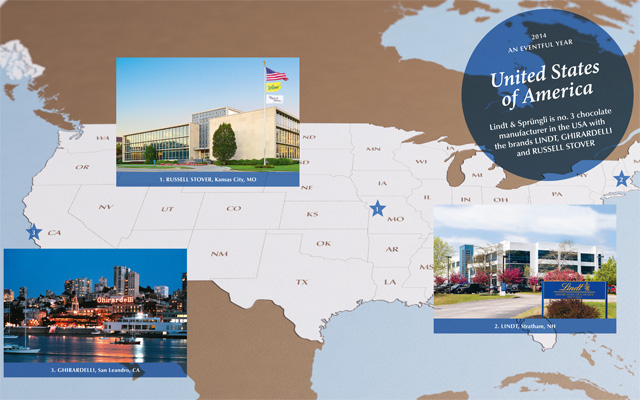 USA
Biggest chocolate market of the world
population
316 million
value total chocolate market
approx. USD 20 billion
Per-capita-chocolate consumption
approx. 5.2 kg
huge Potential
Annual growth 3% since 2009


Three subsidiaries
Together, these three nationally distributing subsidiaries generate the biggest sales contribution of the Group.
east coast
Lindt & Sprüngli USA
west coast
Ghirardelli
mid west
Russell Stover
01
Further consolidating leadership of US premium sector.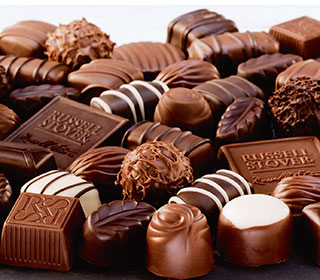 In July 2014, Lindt & Sprüngli took over Russell Stover in the most important strategic acquisition in the company's history, which significantly enhanced what was already a leading market position in the world's largest overall chocolate market, the USA. With its LINDT, GHIRARDELLI, RUSSELL STOVER and WHITMAN'S brands, Lindt&Sprüngli thus now covers the entire country, not only dominating the premium chocolate sector by a clear margin but also becoming the third-largest chocolate manufacturer in North America. Moreover, Lindt & Sprüngli is now one of the most important partners of the local trade.
02
Well-known and well-loved brand portfolio: Russell Stover, Whitman's and Pangburn's.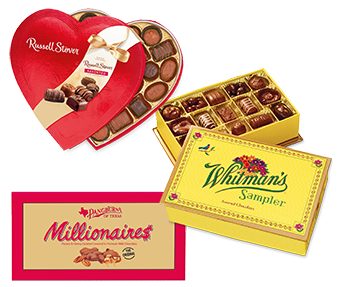 The brands of Russell Stover have been firm fixtures on the market for many years and are widely known. The "Millionaires" product, for example, celebrated its centenary in 2014. Russell Stover is the market leader in assorted pralinés, Valentine's hearts and sugar-free chocolate. With this acquisition, Lindt & Sprüngli, with its Lindt, Ghirardelli, Russell Stover and Whitman's brands, now enhances its leading position in the premium sector in the region.
03
Two names that made history: Clara and Russell Stover from Kansas.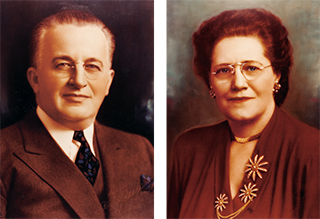 In 1923, Clara and Russell Stover began producing "Mrs. Stover's Bungalow Candies" in the basement of their bungalow in Denver. Just a few months later, they opened their first proper store, earning USD 90 on their first day from selling around 120 pounds of chocolate. The business continued to grow and they soon focused their efforts on producing high-quality boxed pralinés, a market segment that is firmly anchored in US chocolate tradition. In 1960, the company was taken over by the Ward family, who further expanded its national coverage. Whitman's, a brand founded in 1842 and one of America's oldest chocolate brands, was added to the company's portfolio in 1993. In the last 100 years or so, Russell Stover has successfully grown from a small home-run business into the top pralinés brand in America.
04
Russell Stover around 100 years later.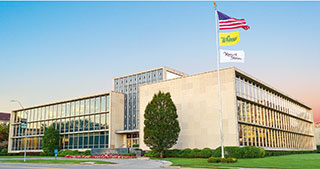 The acquisition of Russell Stover is the perfect strategic fit for the Lindt & Sprüngli Group. Just like LINDT and Ghirardelli, Russell Stover also focuses on manufacturing premium-quality chocolate products. Above all, Lindt & Sprüngli stands to benefit from the strong position enjoyed by Russell Stover in the seasonal business. The company has been headquartered in Kansas City, Missouri for over 80 years. Its four production facilities are spread over four states and are equipped with the latest technology, providing maximum flexibility for the broad product range and additional production capacity for LINDT and Ghirardelli. With more than 2,800 employees, the Russell Stover Group generates annual sales of around USD 500 million.
05
Handcrafted products and a love of detail in everything it does.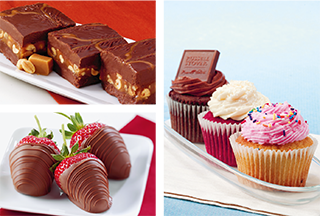 In addition to its classic product range, Russell Stover also sells handcrafted delicacies in its own stores. As well as homemade candies, these include fresh fruit such as apples or strawberries coated in the finest chocolate. They are made from only the best-quality ingredients and crafted with the greatest of care. With their premium-quality elegant packaging, the popular specialties are the ideal treat for yourself as well as being the perfect gift for any occasion.
06
Even Hollywood opts for Russell Stover in the blockbuster "Forrest Gump".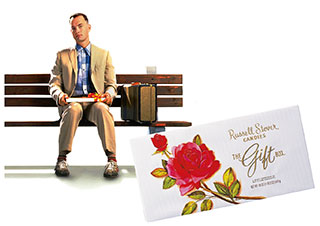 The Hollywood movie "Forrest Gump," which tells the powerful story, full of surprising twists of fate, of a rather unusual character, was released in 1994. Tom Hanks won the Oscar for Best Actor in his role as Forrest Gump, while the movie claimed a total of six Oscars and three Golden Globes. It also included a supporting role played by a Russell Stover box of pralinés and the immortal line "Life is like a box of chocolates. You never know what you're gonna get."
07
National presence and its own chain of stores.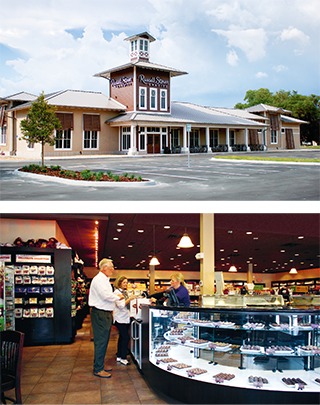 Products are distributed nationwide, both via large retail channels and through its own network of 35 stores, which are located primarily in central USA and thus provide the perfect complement to LINDT on the east coast and GHIRARDELLI on the west. The Russell Stover stores are also located close to sizable residential areas with good local transport links. The extensive range includes a wide variety of specialty chocolates, ice cream, gift ideas, and a selection of meticulously handcrafted fresh products.