an eventful year
Chairman's report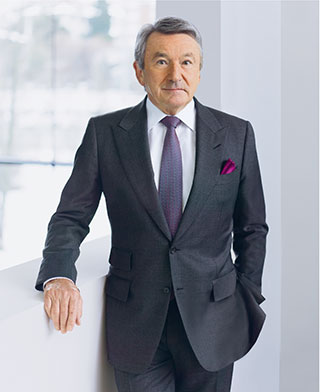 dear shareholders
It gives me great pleasure to look back with you at a highly successful and eventful financial year. A year which not only saw further good results, but also set exceptionally important milestones in Lindt & Sprüngli's history.
The salient event, which will permanently underlay our future corporate success, was by far the takeover of the traditional American chocolate manufacturer Russell Stover announced in mid-July 2014, the largest strategic acquisition in the company's history. With this ground-breaking transaction we have consolidated our no. 3 position in the US chocolate market and attain the uncontested leader position in the local premium segment. At the same time we become one of the most important partners for the retail trade and strengthen our influence in the market. This constitutes a solid basis for further profitable growth in the world's biggest chocolate market.
Geographical expansion was further advanced with the incorporation of our own subsidiary in Brazil, that entered into a joint venture with the CRM Group, the Brazilian market leader for premium chocolate, in which Lindt & Sprüngli holds a 51 % majority interest. Our commitment to Brazil shows that we are banking for the long term in the world's fifth-largest chocolate market without, however, losing sight of other emerging countries with above- average dynamism.
The last financial year not only saw the expansion of our global presence but also events with a great public impact. Examples include the inauguration of the "Swiss Chocolate Adventure" multi-media chocolate experience world at the Swiss Museum of Transport and the "Swiss Chocolate Heaven" on the Jungfraujoch; these are discussed in more detail later in this annual report. The LINDT boutiques at these two exclusive locations not only generate substantial sales volumes but are also leading ambassadors for our premium brand values. With this kind of unique major events, which generated extensive national and international media response, we get through to an exceptionally broad audience and permanently strengthen familiarity with the LINDT brand.
The eventful year was overshadowed by the tragic events of December 15 in Sydney which left behind a feeling of bewildered consternation and deep sorrow. Our thoughts go out to the victims and their families and we will never forget the two people, including one of our own employees, who lost their lives. In such difficult times we must stand together to defend the values of freedom, peace and tolerance.
In many countries, cyclical growth forecasts had to be scaled back somewhat in the second half of the year. This was reflected in turn in further weakening of the currencies concerned. The situation was quite different in the USA where solid economic growth gave some support to the US dollar, especially towards the end of the year. Overall, however, the continuing strength of our national currency had an adverse impact on Group sales expressed in Swiss franc terms. The past financial year saw many tense geopolitical crises and other challenges. This had an impact on raw material costs such as cocoa prices which hit record highs and caused Lindt & Sprüngli, in common with other companies, to make limited price adjustments on selected products. Other important raw materials, including hazelnuts and almonds, were also affected by partially massive price rises.
"We look back to an exceptionally eventful year that not only saw good results but has also set some important milestones in Lindt & Sprüngli's history."
Despite this difficult environment our growth was once again faster than that of the ovreall chocolate markets. We were able to further extend our leadership in the premium chocolate segment in all key markets and to gain new market shares. Including the proportionate (September to December 2014) sales of Russell Stover, the Group's growth in Swiss franc terms reached 17.4 %, resulting in CHF 3.385 billion. This is partly attributable to the strong leadership enjoyed by the newly acquired company in the seasonal business which peaks with the traditional festivities: Valentine's Day and Mothers' Day, Easter, and Christmas. Equally satisfactory were Group sales without the acquisition of Russell Stover, with a total of CHF 3.133 billion and an organic growth in local currencies of + 9.8 %. This clearly exceeded our long-term strategic growth target of 6–8 %.
The positive development was supported by all our subsidiary companies and by the expansion of traditional product lines, as well as by our fast pace of innovation. Organic sales growth in Europe (+ 6.5 %) and North America (+ 14.3 %) were above market average. In all other geographical regions, especially as far as exports from Switzerland are concerned, and in the Duty-Free business, excellent organic growth of 13. 9 % was achieved. Our "Global Retail Division" with its various store concepts (LINDT Chocolate Cafés, Boutiques, Outlets) continues to enjoy highly dynamic development and is making a substantial contribution to Group success, not only on our core markets but also in the development of new growth markets.
Together with the proportionate (September to December 2014) contribution of Russell Stover, the consolidated EBIT reached CHF 474.3 million (+ 17.4 % against previous year). The return on sales is 10.1 % and the operating cash flow stays at CHF 308.2 million (previous year: CHF 419.1 million). This reduction is due to the increase of the net working capital. Excluding the takeover of Russell Stover the Group reported an operating profit of CHF 444.3 million with an EBIT margin of 14.2 % (previous year: 14.0 %), thus meeting our strategic target of a 20 to 40 basis points annual increase in our operating profit margin. In October 2014 a bond of CHF 1 billion has been issued with very advantageous terms in order to fund the acquisition of Russell Stover. The bond consists of three tranches with maturities of three, six, and ten years. Despite the bond issuance our balance sheet remains very robust.
Constantly rising demand over a period of many years for our products in Europe and North America and the geographical expansion of our presence in the rising emerging countries, which is being further accelerated by the strong development of our own "Global Retail" business, require continuous adjustment of our manufacturing capacities. For that purpose, our Group is investing heavily every year in the expansion and optimization of manufacturing performance. In the year under review projects fit for the future were launched in all our production facilities with an investment volume of CHF 234.6 million. In this way, Lindt & Sprüngli leads the field in the chocolate industry in respect of the latest technologies and manufacturing processes.
The good results, our successful business model, strong earnings and the Group's forward- looking growth strategy were acknowledged by the stock market in the year under review. The prices of Lindt & Sprüngli registered shares and participation certificates clearly outperformed once again the SMI growth rate (+ 9.5 %) and recorded an annual plus of 18.8 % and 22.7 % respectively, confirming the investors' confidence in our business.
The share buyback program launched at the end of October 2013 for 5 % of the registered share and participation certificate capital ended on December 12, 2014, after its specified term had expired. The total buyback volume reached CHF 54.6 million.
"Thanks to our exclusive positioning in the premium segment as well as a steady flow of innovations, Lindt & Sprüngli is perfectly lined up for the future."
It is a well-known fact that the company has always attached great importance to an appropriate profit share for its shareholders and participation certificate owners. They have been able to benefit from the success of their company through higher dividend payments year on year, and will certainly be pleased once again by a further increase of 11.5 %. The Board of Directors will be proposing to the General Meeting scheduled for April 23, 2015, a higher dividend of CHF 725.– per registered share (CHF 325.– from the approved capital contribution reserve (agio) and CHF 400.– from available retained earnings) and CHF 72.50 per participation certificate (CHF 32.50 from the approved capital contribution reserve (agio) and CHF 40.– from available retained earnings).
On behalf of the Group Management and the Board of Directors, I personally wish to take this opportunity to thank all our dedicated and motivated employees who have contributed to this good annual result in every country and at every level of the organization. I would like to thank also our business partners and suppliers and last but not least our shareholders who give us their loyalty and trust year after year.
outlook
With the acquisition of Russell Stover in the USA, Lindt & Sprüngli has become one of the top three chocolate manufacturers in the worldwide biggest chocolate market and the absolute leader for premium and seasonal products. Taken all together, the North-American business contributed around 37 % to total Group sales in 2014 with its brands LINDT in the US and Canada, as well as GHIRARDELLI and the brand portfolio of Russell Stover. The integration of Russell Stover into the group of companies will take the utmost priority in 2015.
Exchange rate volatility and high commodity prices will continue to present great challenges.In view of the trend to high quality chocolates as well as a filled pipeline of innovative products, we remain optimistic in the short and longterm for the Lindt & Sprüngli Group as a whole.


Ernst Tanner
Chairman and Chief Executive Officer